Follow me on Twitter
My Tweets
STAFF
     

Capicchioni, Ginny       
FOUNDER, GLADIATOR DIRECTOR
CAPICCHIONI Bio

Capicchioni has been involved in the sport of lacrosse for 19 years. Following her collegiate career, Capicchioni became the first woman in North America to sign with a men's professional team, the first woman to play in a men's professional lacrosse game, the first American-born keeper to play in a Canadian Lacrosse Championship, and the first woman to play for a men's national team in any sport. As a player at the Division 1 – Sacred Heart University, she achieved Conference Goalie of the Year three times. Capicchioni twice ranked in the NCAA's Top 10 in Save Percentage, while setting the 8 program records including saves percentage, goals against average, and career wins.

After playing with the New Jersey Storm of the National Lacrosse League (NLL), she began her 9 year career in the Canadian Lacrosse Association. Capicchioni's Canadian experience includes Akwesasne Warriors on Cornwall Island, Ontario (ILA); the St. Clair Storm in Sarnia, Ontario (OLA); the Windsor Warlocks in Windsor, Ontario (OLA Major), the Windsor Aigles (QLL) in Windsor Quebec; the Island Redmen (ILA) on Cornwall Island, Ontario; the Mad Mohawk in Cornwall, Ontario (ILA), and the last two years with the Coquitlam Adanacs in Coquitlam, British Columbia (WLA, Major). 2010 brought yet another statement in the Capicchioni's career, being named to the USA World Team. She competed in the 2011 World Indoor Lacrosse Championships (Prague, Czech Republic) and compiled an overall 93% save percentage for the tourney. In 2012 Capicchioni is signed with the Kentucky Stick horses in the NALL (North American Lacrosse League), who play in the prestigious Freedom Hall (Louisville, Kentucky). In 2013, Capicchioni signed with the Baltimore Bombers in the NALL. In the Fall of 2013, she was drafted second overall in the European Lacrosse League draft. She competed with the expansion team Pietro Filipi, located in Radotin, Czech Republic. Capicchioni's team finished third place, and she finished 1st in save percentage with a .78.

Capicchioni has achieved full-patent status for the "Goalkeeping Game", encompassing goalie combines in every sport. Capicchioni authored the Guardian Rating and Classification formula (GRC), the only numeric and objective evaluation scale for goalies, based upon 4 components of testing (Reactionary, Offensive, Athletic, and Virtual).  Founder of the former company GUARDIAN in 2011, Capicchioni reincorporated as GLADIATOR in 2016.

Capicchioni rejoined collegiate coaching in August 2016 at the University of Louisville, where she was offensive coordinator and goalie specialist.  The 2017 brought 3 All Americans – Brittany Read (goalie) 2nd Team NCAA All American / ACC Defender of the Year, Hannah Koloski (midfield) 2nd Team NCAA All American / 1st Team All ACC, and Meghan Siverson (midfield) 3rd Team NCAA All American / 1st Team All ACC.  Goalie Brittany Read is now plays professionally in Athletes Unlimited.

In 2017, Capicchioni became the goalie coach for the University of Michigan.  Michigan goalie, Mira Shane (professional goalie, Athletes Unlimited) was named on the Tewarathon list.  Michigan goalie Arielle Weissman was earned NCAA All American, 3rd team.

In 2018, Capicchioni joined the University of Pennsylvania coaching staff.  That season brought about 2nd Team All-Ivy Honors for junior UPenn goalie, Mikaila Cheeseman.  Back-up goalie Krissy Kowalski received All-Ivy honors following the 2018 season.

In 2020, Capicchioni became the goalie coach the women's lacrosse team at Rutgers University.  As a freshman, Sophia Cardello earned Big Ten – Defender of the Week 2 times during the season. The following season, Cardello earned a spot on the Big Ten – All Tournament team.

Currently, Capicchioni is the President of Cap Financial Management, a financial advisement firm for professional athletes and NCAA coaches.  She holds 2 licenses in securities (Securities Agent and Investment Advisor Representative), 2 licenses in insurance (Life & Health insurance producer), and 1 license in tax (Enrolled Agent).   

She holds a BS in Political Science from Sacred Heart University (Fairfield, CT), and a master's degree in Counseling from Loyola University (Baltimore, MD).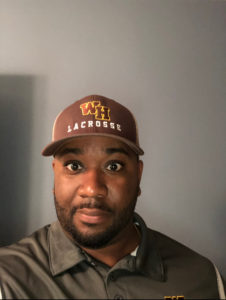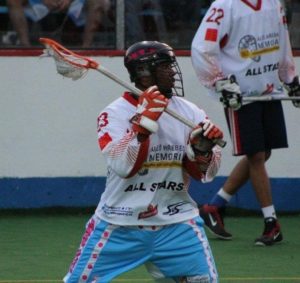 Starr, Robert
ASSOCIATE DIRECTOR 
STARR Bio

Rob has been involved with lacrosse for 18 years. He attended the distinguished, St Benedict's Prep, starting in goal as an 8th grader, and later moving towards attackman. Rob received All Conference and All State honors at St. Benedicts before moving onto the next level. Starr attended Kean University, and turned out to be a historic player for their program.  At Kean University Rob held Player of the Week honors, All-Conference, and every year there, Starr led the team in assists and was top 3 in scoring.  His records upon graduating still stand at Kean University today.

Rob began his professional career being drafted by the Wilkes Barry Shamrocks, Pa Rockets (PLL) in 2012. In 2013, he signed into the NALL (North American Lacrosse League) with the Baltimore Bombers. Rob also plays for one of the top club teams in the nation, Salt Shakerz, who travel across the country and internationally.

Rob has coached at the high school, club, and collegiate level. Some of these teams include: St. Benedicts Prep, Eastside High School, Nutley High School, New Dorp High School, Wayne Hills High School, and Kean University. He was the Assistant Director of the Eagle Indoor Lacrosse Association (EILA) the first true Canadian box lacrosse program for youth on the east coast. Rob has been an Assistant Director in the Gladiator Lacrosse training program for the last four years.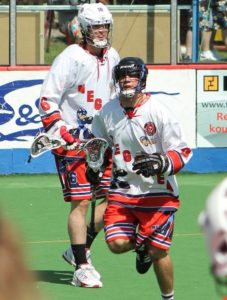 Scriffiano, Alex
Coach 
Scriffano Bio

Alex "Scriff" Scriffiano got his first lacrosse stick at 14 years old and immediately fell in love with the game. He started playing at Watchung Hills Regional HS, where he played for 4 years and was eventually named team captain as a senior. He then moved on to play in college at Rowan University where he led the team in scoring during his Sophomore, Junior, and Senior years. During his Senior year he was voted team captain.  While in college he discovered box lacrosse in Philadelphia; playing for several of the PBLA's clubs over the next 6 years. During this time he also played for the US Developmental Box team.  After that he played in the semi-professional NALL, PSL, and IBLA.  His passion for lacrosse extends beyond playing and includes stringing and coaching. Coach Scriff has coached for "2 Knights Lacrosse Club", "Eagle Box Lacrosse", Watchung Hills Regional High School, and "The Gladiator School".  He is a true lax-rat that can't (won't?) stop his involvement with the Creator's game.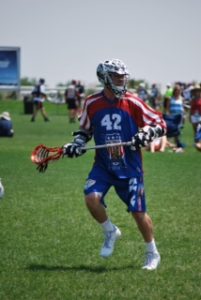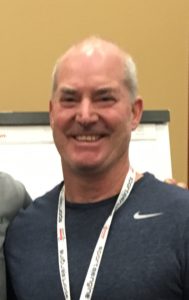 Madine, Tom
Coach 
MADINE BIO

Tom Madine has been involved in the game for over 40 years. He played at Booton High School from 1979 to 1982 and at County College of Morris from 1982 to 1983. From 2007 to 2009 he played in the American Lacrosse League (ALL) under the Jersey Thunder. From 2004-present, he has participated on many lacrosse clubs including: the Reapers, the Pink Elephants, and Tri-City.

In 1986, Tom and his father started the Booton, Lincoln Park Hills & Valley lacrosse program. Tommy coached levels 4th to 8th grade in Booton Hills program from 1986 to 1992, and then the Valley youth program from 2006 to 2017. Coach Madine has coached club lacrosse with Jersey Thunder from 2011 to 2013. He has coached travel soccer from 2002 to 2009 with the Lincoln Park program. Madine has worked for the BBL offensive academy from 2013 to 2015. He has also been a training assistant with Goalie Solutions from 2012 to 2019.

Tom Madine has been a Gladiator coach since 2017.