Follow me on Twitter
My Tweets
WD1 Notebook: Cheeseman, Defense Spur Penn to 6-0 Start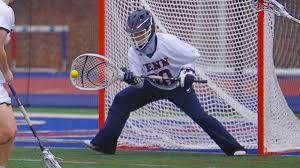 The trademark of No. 5 Penn's success has been a defense that frustrates opponents backed by solid goalkeeping. The second component has achieved a heightened level of accomplishment in 2019
Enter junior goalie Mikaila Cheeseman and first year volunteer assistant coach Ginny Capicchioni.
Penn (6-0, 1-0 Ivy) boasts the fourth-ranked team defense (6.67 goals against per game) due in large part to Cheeseman's nation-leading .622 save percentage. After Cheeseman's 14-save showing in Penn's 8-7 win over Georgetown, coach Karin Corbett attributed her strong play to a change in style brought forth by Cappichioni.
"She's incredible," Corbett said of Cappiochioni. "If you look anywhere she's gone her goalies have done well…Hats off to Cap. I think Cheeseman has really bought into her style and coaching. She puts [the goalies] in a position that they're responsible for a high save percentage."
Cappiochioni returned to her native New Jersey following a one-year stint at Michigan and a season with the Louisville Cardinals. At both stops, Cappiochioni improved the goalie units, helping to lead Michigan to a program-best seven wins in 2018 and coaching 2017 ACC Defender of the Year in Brittany Reed at Louisville.
"I was excited to have her join our staff," Corbett added. "I knew what we had with Mikaila's potential and a good freshman goalie (Krissy Kowalski) that I wanted to give them a lot of attention to really get them to their potential."
This emphasis on defense has been a long standing philosophy for Corbett's Quakers. In front of Cheeseman are two senior captains in Lauren O'Mara and Katy Junior that guide the defensive corps.
"They've set a really good example of work ethic," Corbett said. "It's about the team, it's not just one person. We've got to play good team defense. The two of them really embody that."
Georgetown, which had averaged nearly 13 goals per game entering Saturday's contest, was limited to just seven by the Quaker defense. Penn held the Hoyas scoreless for two separate 15-plus minute stretches, including a span of 22:36 from the end of the first half to the middle of the second. This was especially provoking as Georgetown held a decisive 30-17 edge in shots.
On the other end of the field, the Quakers were relatively efficient in their shot making (47.1 percent), but struggled in maintaining ball security (17 turnovers). Penn's leading duo again shined as Zoe Belodeau scored five times including the game-tying goal with 14:20 remaining and the game-winning goal with 5:13 to go. The game-winner was fed by Gabby Rosenzweig, the team's leading point scorer, who dished five assists on a day where she didn't find the back of the net for the first time in 2019.
"I think that they started to get that connection last year and it's really grown this year," Corbett said. "They're both threats. I'm really pleased with them. I'm excited that they have this season and next season with each other. They're tough to stop and play against."
Now the key is getting the rest of the offense more involved, which Corbett admitted is a work in progress.
"I really want to have a balanced attack," Corbett said. "Erin [Barry] is a true middie who has a great matchup each game and is a huge part of our transition game and draw, but she's a true midfielder. We have a lot of young kids who didn't see time until the end of the season last year and we have a lot of freshmen who are seeing the field who are still learning the college game."
A clash of undefeated squads is set for Wednesday evening in College Park when the Quakers take on No. 2 Maryland. It's a large task to try to slow down Maryland's dynamic offense, but Penn is built to try and do just that and turn the upset.
"They're extremely fast and talented," said Corbett of Maryland. "In the past we've really struggled clearing the ball. We've played good defense but end up playing too much defense. We need to take care of the ball…We're not going to win 1-on-1 battles or on the fast break. That's' their bread and butter. We've got to slow them down and be able to rely on team defense."