Follow me on Twitter
My Tweets
Crease Call – Jakob Katzen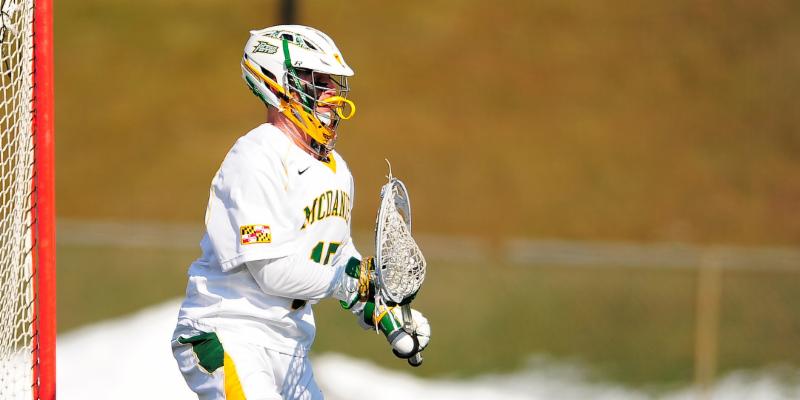 "Crease Call is Gladiator's weekly spotlight of one of the program's goaltenders."
Name
Jakob Katzen

Nickname
Kit Kat

Hometown
Wilmington, Delaware

High School/Grad Year
Wilmington Friends School Class of 2016

College/Grad Year
McDaniel College Class of 2020

Height
5'11''

Club Team
Silverbacks Lacrosse Club

Favorite Song before a game
Ready or Not Here I Come by Gho$T

Pre-game meal
Turkey sub on wheat with provolone, lettuce, tomato, mayo, mustard, and pickles.

Why did you choose to play the goalie position?
When I first started playing lacrosse at age 10 I played attack, but as soon as our team was in need of a goalie, I decided to step in and fill that position. I didn't know what to expect at first, but after giving it a try and getting comfortable with the specifics of the position (stance, feet placement, how to properly step to save the ball, etc.) I knew it was the perfect fit.

What do you personally do to rest after a goal is scored?
I meet with the entire defensive unit and discuss exactly what happened. By knowing where we went wrong, we can collectively agree to move on to the next play and avoid the same mistake from happening again. Additionally, if there is a shot I knew I should have saved I will point to myself and communicate to the defense that goal was on me.

What was the hardest thing thus far that you had to learn as a goalie?
Understanding that losing is a team-effort and that you can't single out any single person for the team's inability to come out in the win column. Even though it's easy to point fingers and be hard on yourself for thinking you cost your team the game, remaining calm and collected is the best medicine for success.

What was your greatest achievement as a goalie?
Earning US Lacrosse All-American Honors, 1st Team All-State, and 1st Team-All Conference Honors during my senior campaign in high school.

What is your largest strength as a goalie and/or leader?
My willingness to overcome adversity and maintain a positive attitude. The goalie position is difficult to begin with, so having a short-term memory and having the mental capacity to move on after you've let a goal in or made a mistake is what will help to determine how your teammates perceive you. Leading by example has always been instilled into my work ethic and is what has brought me success over years.

Who has inspired you the most in your life?
My grandfather has taught my life lessons that can be applied to both sports and my personal life and for that I am extremely appreciative. He supports me in everything that I do and encourages me to put my best foot forward even when things don't necessarily work in my favor.

What do you hope to become – career?
I am currently pursuing a major in Communication and a dual minor in Spanish and Journalism. After receiving my college degree, I hope to work professionally for a marketing or advertising agency or for a sports broadcasting company.

GLADIATOR WISHES JAKOB A TREMENDOUS SENIOR YEAR AT MCDANIELS COLLEGE. WE HOPE YOUR "4TH QUARTER" IS YOUR BEST ONE YET!